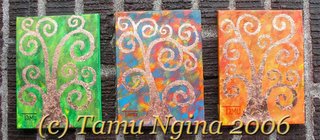 These lovely painted 6 x 8 canvases with genuine Copper leafing.
I currently have these up for auction at eBay.
I've sold three thus far, gave a rather large one to my Rabbi as a gift and one to a very dear friend of mine. The process is quite addictive and meditative.
A lot of thought, love, and consideration goes in to each of them.
******************************************************************


Now these are my babies, my 2und miniature art DOMINOES... who'd a thunk!!

I plan to have several listed started Friday and onward. These are very popular and past clients have emailed me asking for MORE. Makes me happy because I enjoy creating these miniature Frida Kahlo tributes.

Ok, its late!! GoodNight!!